I've started a little cross stitch project featuring cross stitched quilt blocks. Little Miss Shabby is hosting this stitch a-long and although I'm weeks behind, that's OK. Click on the link and go to the Quilty Stitches area. You can still access all of the instructions and the block patterns that have been posted so far. There will be 16 cross stitched quilt blocks surrounded by a cross stitched "sashing."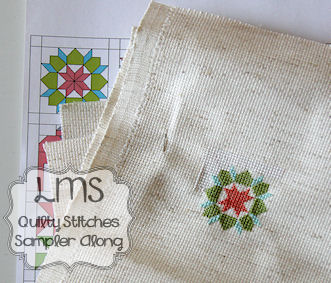 Here's what I have so far. (Hmmm... not much) I'm starting out by stitching the sashing lines first, then I'll fill in with the quilt blocks.
Here's one drawer of my floss. I have all of the DMC floss colors which allows me to just buy charts and patterns instead of buying kits that include the floss. There was a time when cross stitching was my favorite hobby and if you knew me, you were destined to get a cross stitch gift on birthdays and holidays. Quilting has taken over as my favorite past time but I still enjoy an occasional cross stitch project.
If you are looking for a nice, carry along project that is pretty simple, cute, and fun, check out the link above and join in!